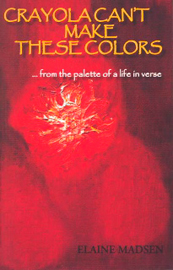 Crayola Can't Make These Colors
...from the palette of a life in verse
...in book stores now



"There are some colors that simply aren't visual. Crayola Can't Make These Colors: ...From the Palette of a Life in Verse is a collection of poetry from Elaine Madsen, a multi-talented woman with a strong love for poetry. Her verse is simple and moving, and does well to fit with its title of painting vivid images unique to the English language. Crayola Can't Make These Colors is a strong choice all around for poetry fans."

Midwest Book Review
(Oregon, WI, USA)


---
"It's so good to hear from a woman who's been through a complete life, and lives to tell about it. The Agonies and the joys.  Her loves, her children, her friends.   Her commitment to the history, politics and art of our time. Elaine Madsen is a poet offering us wit and grace."
Maxine Hong Kingston
(Pulitzer Prize winning author and peace advocate)
---
"The finely-wrought, musical poetry of Elaine Madsen, spanning a daring lifetime of depths and heights, is full of hard-earned wisdom. The lady knows."
Aram Saroyan
(An internationally known poet, novelist, biographer, memoirist and playwright)
---
"Elaine Madsen's poems probe the heart and soul, inching their way towards sudden luminescent insights. The words and feelings are tenacious, self revelatory, wise and courageous, all aspects of who and what Elaine encompasses as a woman and artist."
Lyle Kessler, Playwright
(Author of award winning play "Orphans")
---