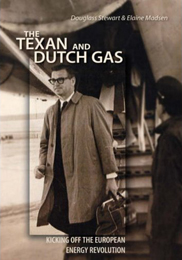 The Texan and Dutch Gas
Kicking Off The European Energy Revolution
W.J.E. van de Graaff in "Netherlands Journal of Geosciences" says:
"In terms of economic impact, the discovery of the Groningen gas field was one of the most fundamental events in Western Europe in the second half of the 20th Century"
"The Texan and Dutch Gas" book is a very personal chronicle of the men who brought to market this remarkable discovery, revolutionizing Europe's energy business. The book gives a behind the scenes look at the individuals who participated in the negotiations with the Dutch Government and the internal ups and downs of relations between Shell and Esso. It reveals corporate maneuvering, intrigue, disappointments and successes, particularly with the regard to the export effort that put Shell and Esso in the gas business in Northern Europe.
--> Available at Amazon.com
--> Read about her new book "Crayola Can't Make These Colors" here