Elaine Madsen - Press

---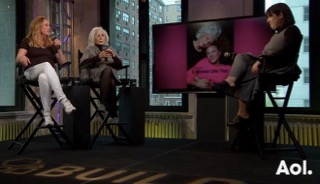 Virginia Madsen and Elaine Madsen on "I Know A Woman Like That":
Having reached the age when many people are expected to retire or simply slow down, the remarkable women in "I Know a Woman Like That" are proof that being a senior citizen is no reason to stop living a full, energetic life. Join Emmy Award winner Elaine Madsen and Oscar nominee Virginia Madsen as they discuss this wonderful film about women - famous and otherwise - who continue to explore life. Interview at AOL HQ in NYC for AOL BUILD.
Click Image above to view the full interview video.
---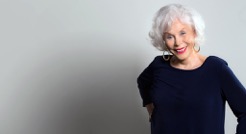 Elaine Madsen: Felix Magazine's New Editor-In-Chief:
While waiting to begin my interview with Elaine Madsen, I think about the qualities that make her such an exceptional new Editor-In-Chief for the L.A. edition of Felix Magazine. She is intellectually curious, culturally insightful, artistic, compassionate, politically astute, an enthusiastic mentor.
Click The photo of Elaine above read more
---

Can the Dutch Gas Bubble defy King Hubbert's Peak?:
The Peak Oil theory may be on its way to being confirmed by the depletion of Europe's largest natural gas field, which can only be rescued by a new era of gas exploration which would also delay Europe's growing dependency on foreign gas imports. Ruud Weijermars and Elaine Madsen examine whether past success can be equaled by future exploration initiatives.
Click The FB News Feature logo above to open the PDF and read the full story. Article by Ruud Weijermars and Elaine Madsen, posted courtesy of First Break magazine.
---

Women who won't be quiet are celebrated:
According to Emmy Award-winning filmmaker Elaine Madsen, society treats women differently after age 65. "Society tells women of a mature age that you're supposed to go some place and be quiet," said Madsen, the mother of "Sideways" star Virginia Madsen and "Kill Bill" actor Michael Madsen. Instead, she and her fellow females have decided to live life to the fullest. They're the focus of "I Know a Woman Like That," a new documentary screening Wednesday as part of a benefit for the San Luis Obispo International Film Festival and the Women's Legacy Fund.
Click The Tribune logo above to read the full story.
---

Elaine Madsen Explores Women and Aging In a New Documentary - Radio Interview:
This past weekend, a sex symbol was reborn! Actress Betty White was highly praised for her appearance on Saturday Night Live. It was SNL's highest rated show in a year and a half. And per usual, Betty White didn't shy away from talking about sex. But she's not the only one. Sex is on the mind of many aging women. That's just one of the discoveries in a new film from Chicagoan Elaine Madsen. Madsen is an award-winning poet, producer and playwright. Her documentary I Know a Woman Like That shares the stories of women confronting the aging process.
Click Chicago Public Radio logo to hear the NPR interview
---

Interviewing Women Like That - Ability Magazine:
Virginia Madsen is a Golden Globe- and Academy Award-nominated actress known for her work in Sideways, The Astronaut Farmer, and The Number 23. Her mother, writer-director Elaine Madsen, has a wide range of creative projects on her list of achievements, including a new book of poetry and an Emmy Award for Outstanding Documentary. In their new collaboration, I Know a Woman Like That, the mother-daughter duo join forces to take a close look at grace, age, vitality, and what it means to be a woman. ABILITY Magazine's Chet Cooper and Nancy Villere caught up with the Madsens to discuss this ambitious and personal project. Click photo for full story
---
ABC7 Closeup: 'I Know a Woman Like That'
---

Ebert's take on "I Know A Woman Like That" documentary:
"I Know a Woman Like That"  (USA, 103 minutes).  Its description may sound innocuous, but Elaine Madsen's documentary is transformative in the way it regards life from the perspective of age. She talks intimately with 16 women in their 70s or above, who didn't put life on Pause but kept right on living. Barbara Hillary skied to the North Pole, and says women her age are expected to feel "mindless, useless and sexless." Lauren Hutton smiles, "I'm better in bed."  Elaine Kaufman presides nightly over the most famous saloon in New York. Lorraine Morton was elected mayor of Evanston at 74, and is still mayor 14 years later. After a famous career in prose, Maxine Hong Kingston has returned to poetry, her childhood love. Gloria Steinem thinks maybe at 70 you find out who you really were at 14. Madsen doesn't ask celeb-trash questions, but is an adult talking to adults--even when she and Suzanne Adams (her daughter Virginia's drama teacher) are lying on a rug on their tummies, talking face to face like two seven-year olds. Extraordinary."
---

Madsen launches Title IX Prods.
Projects include doc 'I Know A Woman'

By TATIANA SIEGEL
Virginia Madsen and producing partner Karly Meola have launched production shingle Title IX Prods.
Slate of projects includes the documentary "I Know a Woman Like That," which focuses on the lives of extraordinary women between the ages of 64 and 94. Madsen's mother, Emmy-winning filmmaker Elaine Madsen, is directing the project, which is in post-production.
Other projects in development include "Gothika" scribe Sebastian Gutierrez's adaptation of Martha O'Connor's debut novel "The Bitch Posse" and a remake of the 1984 Virginia Madsen starrer "Electric Dreams."
Shingle is named after the 1972 law giving women equal opportunity to participate in activities that receive federal funding."In a way, we're saying let the girls play," Madsen said. "I started acting at 18. After all these years, I know a lot about the business. I know how movies are made. Now is the time that I can help newcomers in a way that I've been helped in the industry."
Added Meola: "(We) have the intention to be both dynamic and inventive in the way we choose to tell stories. We sincerely hope to generate strong messages and perspective on people and relationships."
Madsen will next be seen in the IFC comedy "Diminished Capacity." She also stars in Gold Circle Films and Lionsgate's forthcoming supernatural thriller "The Haunting in Connecticut."
"variety.com" Original Article
---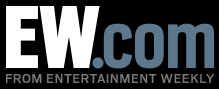 Entertainment Weekly article excerpt:
Adam B. Vary, with additional reporting by Gregory Kirschling and Whitney Pastorek, Entertainment Weekly
Virginia Madsen did dozens of interviews for I Know a Woman Like That, a look at "women living vibrantly when the world says 'You should be old now.'" These include her mother Elaine, 74, an Emmy-winning documentarian who was almost too busy to direct it. "She said, 'Well, I have to finish my book, I'm going to Europe...,' and I was like, 'See? You are this woman!'"
---

Book Review - Midwest Book Review:
There are some colors that simply aren't visual. Crayola Can't Make These Colors: ...From the Palette of a Life in Verse is a collection of poetry from Elaine Madsen, a multi-talented woman with a strong love for poetry. Her verse is simple and moving, and does well to fit with its title of painting vivid images unique to the English language. Crayola Can't Make These Colors is a strong choice all around for poetry fans.
---